Combination of bracelet and a mobile app to empower beginners to cheer during football games. Applied the entire UCD process, including requirements gathering, task analysis, brainstorming, mockup, prototype, and usability testing.
DESIGN PROCESS
We followed a user-centered design methodology for this project. We conducted user research to understand their needs, created various design alternatives, evaluated them, developed a prototype for one of the alternatives and performed usability testing. Following is a brief description of each of these phases and the detailed reports.
PILOT STUDY 
In order to understand the needs and problems of people who come to watch football match, we decided to interview and observe the residents of an assisted living community.  We gathered user information through semi-structured interviews and observations.
As the football audience group is with quite enormous diversity, they do not share much in common in geographical and demographic aspect while are more similar in psychographic and behavioural area. Also, divergent characteristics among each individual may create different requirements, which will influence the upcoming solutions in different ways.
This helped us identify various problem spaces – Reaching football stadium, parking, in-game experience of understanding game etc.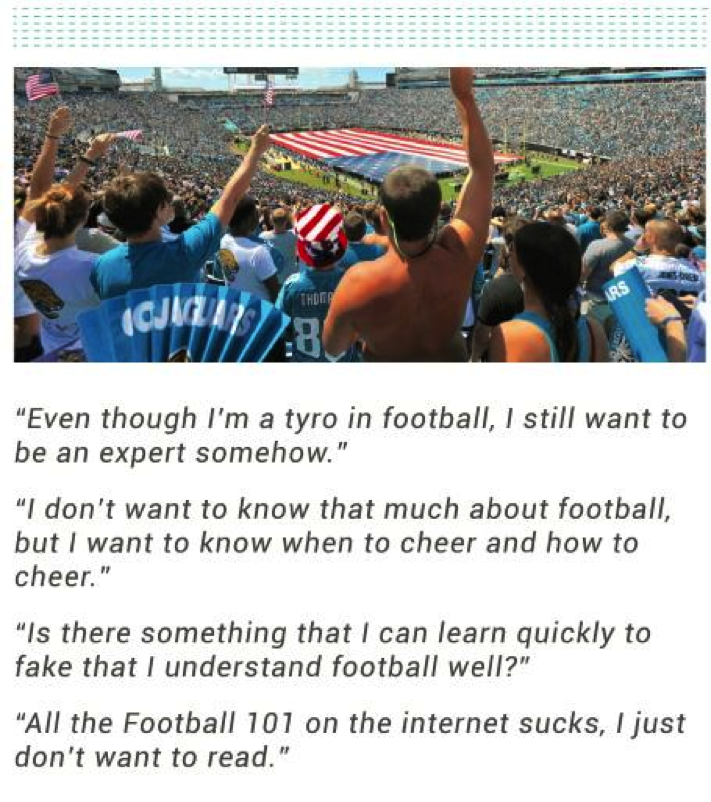 DESIGN REQUIREMENTS 
Design criteria listed below include the critical matters need attention during the product design process. These criteria were closely followed in both the team brainstorming process as well as the decision making process on the three design alternatives. In addition, our designs are here to enhance users' engagement into the game. They should definitely bring users joys and pleasures.
Since the design is supposed to help beginner game watchers understand the game rules and/or empower them to cheer, it should in some ways leverage and assemble real-time information from the on-going match or audiences to produce augmented useful functionalities to beginner game watchers.
In order to make sure the accuracy of information assembled during the match, there should be enough input channels and/or technical supports to perceive and translate information.
The design should act as a supplement of the match for users, instead of distracting the beginners from concentrating on the on-going game. However, it cannot be monotonous so that the users would easily lose their interests. The design should find the balance between the two.
The design should be portable, with reasonable physical size and weight, so that the users won't feel burdensome when carrying it around.
Any functionalities of the design should be easy to perceive and understand. No user would want to spend too much time on a product that require them "thinking" about how to use.
DESIGN ALTERNATIVES 
A bracelet to monitor people's heartbeat frequency and activity during the game, the bracelet will vibrate and light up if it senses sudden high heartbeat frequency. And when the bracelet vibrates, beginners will know this is the time to cheer.
 DESIGN PROTOTYPING: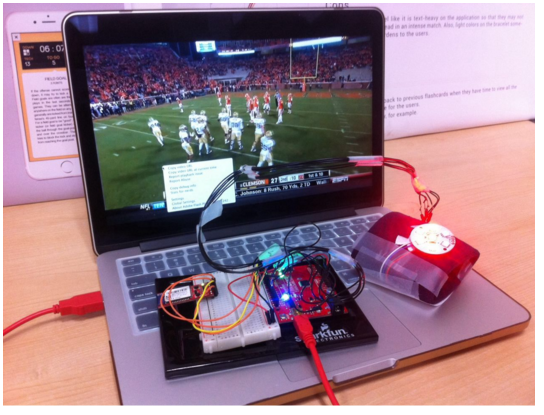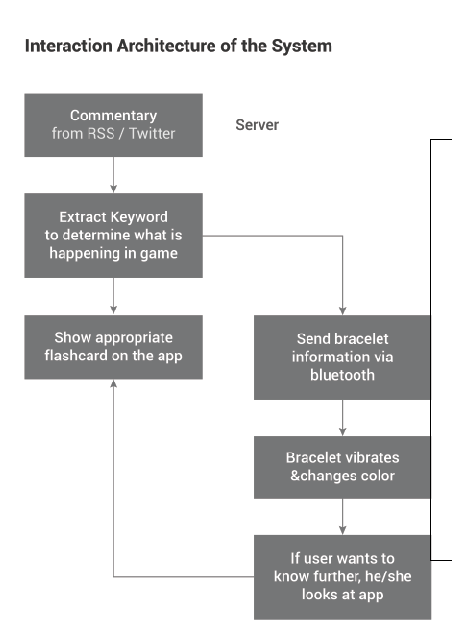 EVALUATION AND — USER TESTING: